About Us
Michael K. Hwang, DMD, LLC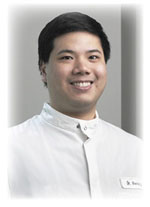 Dr. Hwang grew up in Norwalk, CT. His extensive education began with an undergraduate degree in chemistry from Cornell University and a master's degree in molecular biology from the University of Connecticut-Storrs. After working as a high school science teacher and as a research assistant, Dr. Hwang earned his doctor of dental medicine (DMD) degree at the Tufts University School of Dental Medicine in Boston. He then went on to complete the Advanced Education in General Dentistry residency program at the University of Connecticut Health Center in Farmington.
Since finishing his residency, Dr. Hwang practiced general dentistry both in private practice and at a community health center before acquiring his practice located in East Hartford, CT in November 2007.
Dr. Hwang greatly values organized dentistry and continuing education. He is a member of the American Dental Association and the Connecticut State Dental Association. Each year, he spends approximately 50 hours taking continuing education courses to provide the most up-to-date care for his patients. Dr. Hwang's practice philosophy is to work together with his patients to provide the best possible treatment and to only do what is in the patient's best interest.
Dr. Hwang is an avid classical violinist and violist, playing in many community orchestras, and he is also a UCONN basketball fan.
We pride ourselves on being extremely caring individuals who have come together to become an extremely caring family. We are characterized by patience, punctuality, compassion, and competence. We are committed to constantly continuing our education, so we can provide you with the latest and greatest in today's dental field. As a team, we will do everything possible to serve you in a friendly, timely, and informative manner. Dr. Hwang lives in Glastonbury, CT with his wife Kathleen and his two sons, Rei John and Malachi.
---
Patti: Office Manager
Patti is our in-house Renaissance woman. She dabbles in a little bit of everything at our practice. If you have questions about fees and insurance, Patti is the lady you need to see.
Patti has an associate's degree and is a certified dental assistant. She has been in the dentistry field for over forty years. When she is relaxing, Patti likes to cook, read, and take walks.
Deborah: Dental Hygienist
Deborah is the newest member of our team and is a resident of Newington, CT. Deborah is very gentle and enjoys educating patients about the importance of oral hygiene. In her spare time, she enjoys spending time with her teenage children and taking trips to the beach.
Maria
Maria is the newest member of our team! Maria grew up in Hartford and she graduated from Branford Hall and studied medical billing and coding. Maria is bilingual and speaks both English and Spanish. She will be happy to answer the phone, make appointments, and answer questions on billing and insurance. Please welcome Maria to our practice.